Overview
There are several "listings" widgets available, which allow you to show a listing of content with various display options. The workflow for constructing Listings widgets is to build your content first (i.e., create Content pages, News items, FAQ items, etc.), and then select Listings widgets that will display your content as desired. 
To select from the available Listings widget options, select the "Listings" tab when customizing a page, then select an item accordingly.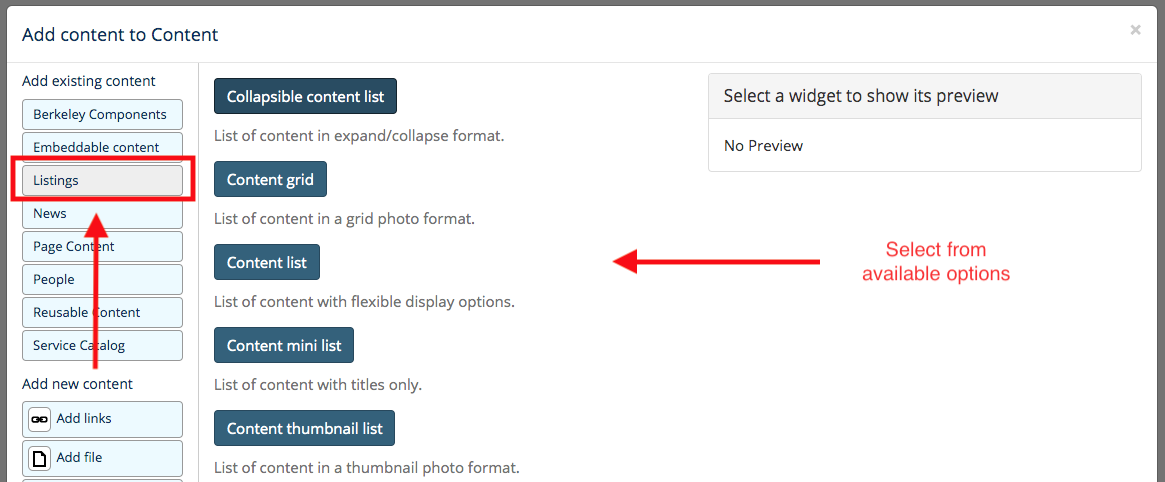 Teaser Text
The Collapsible Content List, Content List, and Content Thumbnail List widgets will automatically display some "teaser" (summary) text. If you would like to configure the teaser text that is displayed, you will need modify the summary of the original content items featured in the listing widget. See Edit Summary for more information. 
Image/Photo
The Content Grid, Content List, and Content Thumbnail List widgets have options for displaying photos along with text. In order to add your own photos to these widgets, be sure to add a Featured Image to the content items featured in the widgets. If a featured image is not uploaded, a default image will be displayed instead.
The "Pager" Option
The Content Grid and Content Thumbnail List widgets have a "pager" option. When configuring the widget, the "Use pager" checkbox will be checked by default, and the pager will show up at the bottom of the widget if there are more content items available than the number of content items allowed in the "Items to Show" field. You can un-check this box to not show a pager.
Additionally, if you will be featuring more than one Listing widget on the same page, and if the multiple Listing widgets will each have a pager, then you will need to put a number in the "use pager" field (a number other than 0, such as 1). This will distinguish the pagers from one another, allowing site visitors to select from each pager. (If the number isn't added to the "use pager" field, then selecting a number from one pager will select the same number from the other pager as well.)