Overview
The UDAR Give to Berkeley widget (formerly called Give to Cal) allows Open Berkeley site builders to display a Give to Berkeley form for your unit on your pages. 
NOTE: You will need to know the embed code for this widget in advance.  For more information on setting up a form and/or getting the embed code, see University Development and Alumni Relations (UDAR) Customer Support.
The display of the widget is generated by UDAR and is not configurable except by using the parameters listed below. Example of the Give to Berkeley widget: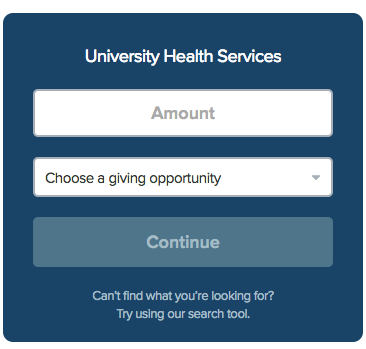 How to Add a "Give To Berkeley" Widget
To add this widget, once you are in "Customize this Page" mode, click on the plus sign (+) to add a widget, and then select "Embeddable Content":

Then, click "Add" for "Give to Berkeley":
From here, configure the Give to Berkeley widget. Check "Override Title" to add a new title if desired (optional). Copy and paste your Give to Berkeley embed code provided by UDAR into the "link or embed code" field (required). It is not recommended to change the pre-filled number in the "Height" field (the 375px height has been pre-determined to work best on various displays). Click "Save" when you're finished making the changes to the individual widget, then click "Save" at the bottom of the page to complete the process.