Portfolio allows site builders to create accessible, filterable grid displays of content. You can choose which content types to display and what terms to filter them on.
Portfolio is often used with Service Catalog, but it can be used for any type of content, including multiple types at once.
Categories
To use the Portfolio, you must have some terms created in one or more taxonomies. On the dashboard, you will see a section titled Administer taxonomy.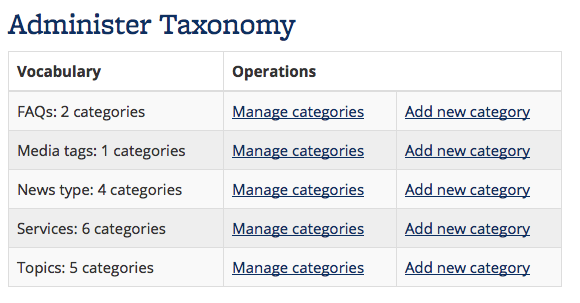 Using the links in the section you can add and edit terms in all of your site vocabularies. Click the "Add new category" link in the table row for the vocabulary you want to add to. You will be on the add term page. Add a title and an optional description. When you save, you may be redirected back to the dashboard.
Terms in the sitewide Topics vocabulary can be applied to all available content types except Portfolio pages. Some features provide their own vocabularies, such as FAQ (FAQ category), News (News type), and Service Catalog (Services). Any site builder can create new terms in all vocabularies. 
By default, the categories are displayed alphabetically as the filters at the top of the Portfolio. To set the display order of the filter buttons for your Portfolio, drag and drop the tags into your preferred order from the "Manage Categories" interface. 
Create Portfolio Pages
From the dashboard, click the Portfolio link in the Create Content section.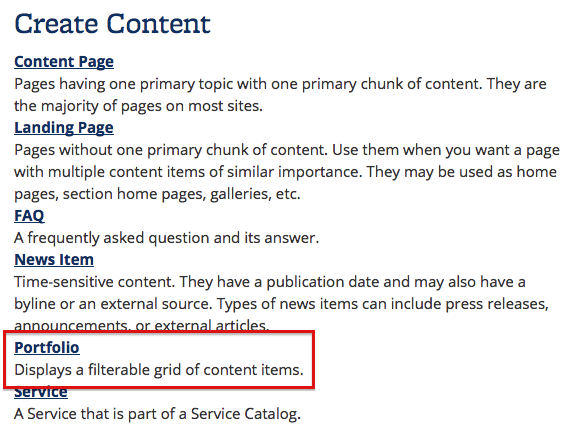 Or, find the Add Portfolio link in the admin menu.
Enter a title and a description. Check some boxes under the Content types label to choose which types of content will be shown. Once you have checked at least one box, you will see the options available to filter content accordingly, as well as additional filtering and sort options.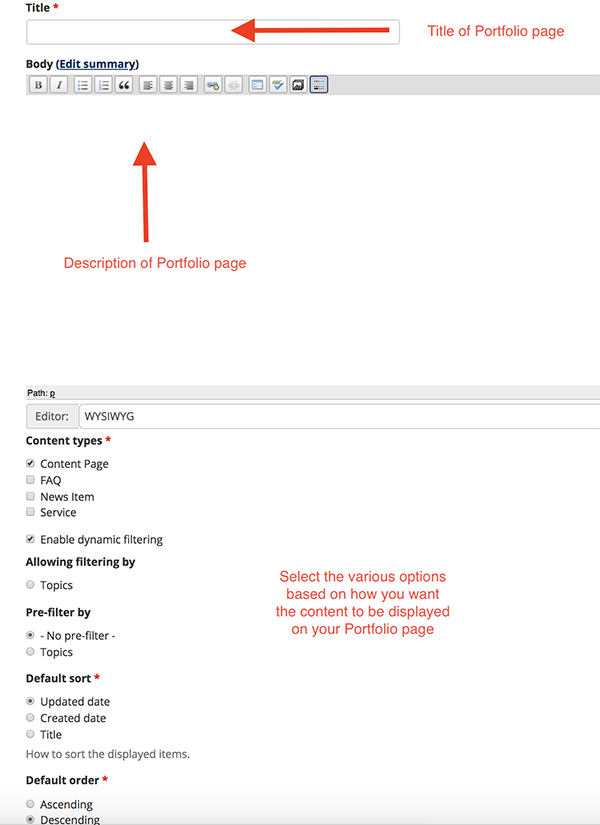 If you have selected more than one content type, you will see all of the available vocabularies for the types you've selected. For example, if you choose Content page and Service, if using Service Catalog, you will have the option to choose Topics (sitewide) or Services. Clicking one of the specific term filters will exclude content types that don't use either Topics or Services.
You may also set the sort criterion and sort order. Available sort criteria are Title, Updated date, and Created date. All criteria can be sorted Ascending or Descending. The default sort order is recently-updated-first (Updated date, Descending).
As of now, only builders can create Portfolio pages. Builders can customize the page, change the layout, and add widgets the same way they can for other content types.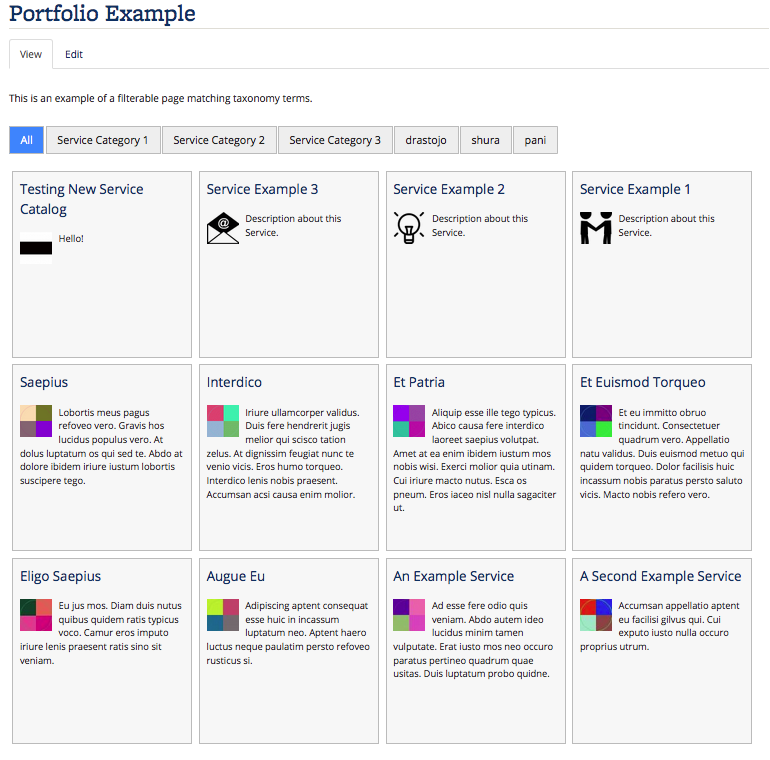 Apply a pre-filter using Topics
In the above description, a portfolio is either filtered by a content type, or any content tagged with a type of category (e.g., Topic, or Service if also using Service Catalog). There is also an option to apply additional filtering to a Portfolio via Sitewide Topics.
For example, you may have a disparate set of sitewide Topics and want to feature only a subset of tagged items in a Portfolio. You can configure the Portfolio to pre-filter by a specific Topic. The resulting page will only show items tagged with that Topic, and will display filter buttons for other Topics with which you've tagged those items.
You can also choose to use different sets of tags for the pre-filter and the dynamic filter. For example, if you have News types of "Research News" and "Department News," and multiple sitewide Topics that might apply to News of each type, you can create a Portfolio page of News items and pre-filter it by "Research News," then set up the dynamic filter to use Topics. The resulting page will show only News items of the type "Research News," and will display filter buttons for each applicable sitewide Topic.
In the screenshot below, there is a Portfolio page called "Amazing Fruits and Vegetables." This page is pre-filtered by a Topic called "Produce." The "Produce" Topic has individual fruit and vegetable sub-Topics, which show up as the filters at the top of the Portfolio: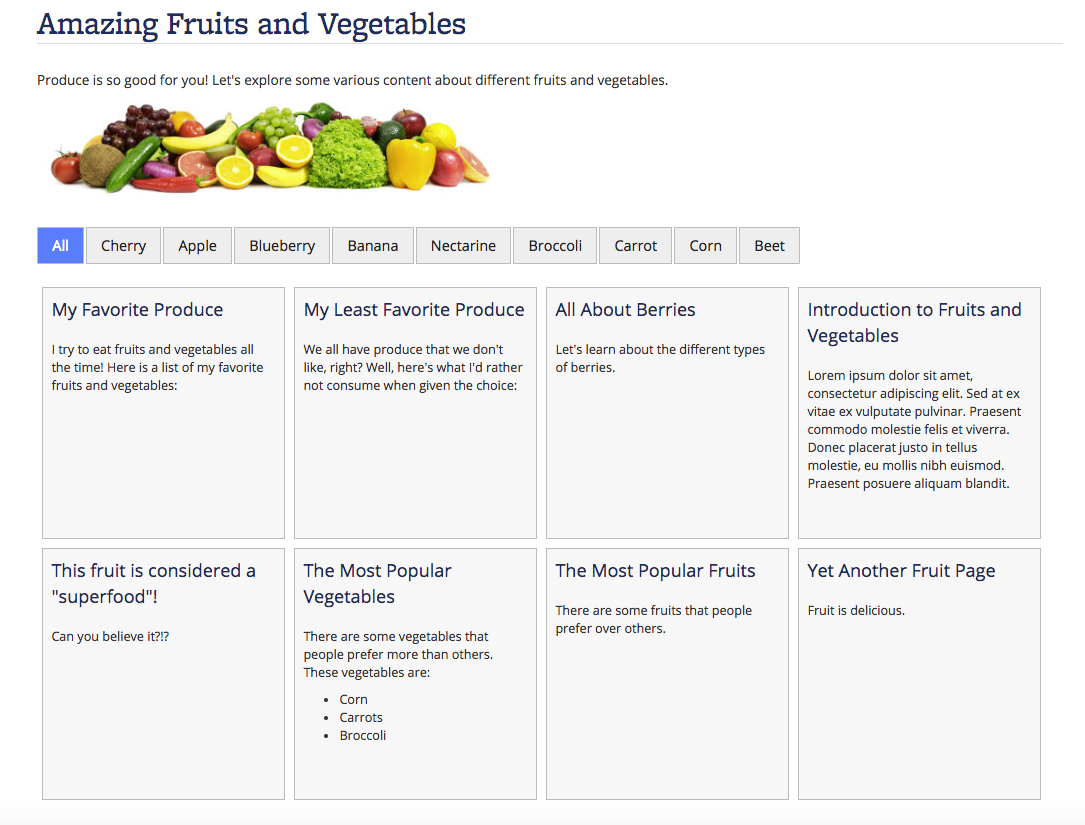 Clicking on the individual filters will show content tagged with "Produce" and/or "Blueberry":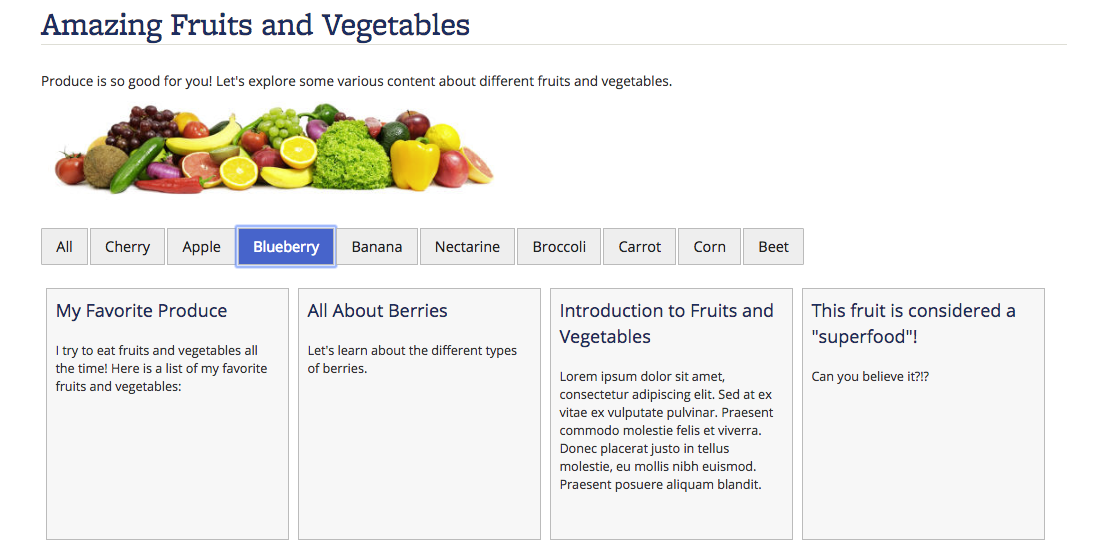 In the above example, the hierarchy of Topics from the Topics dashboard (see Sitewide Topics for instructions on how to add Topics) is set up so that "Produce" is the top-level Topic, and the individual fruits and vegetables are the sub-Topics (simply drag a Topic underneath the top-level Topic to create a sub-Topic).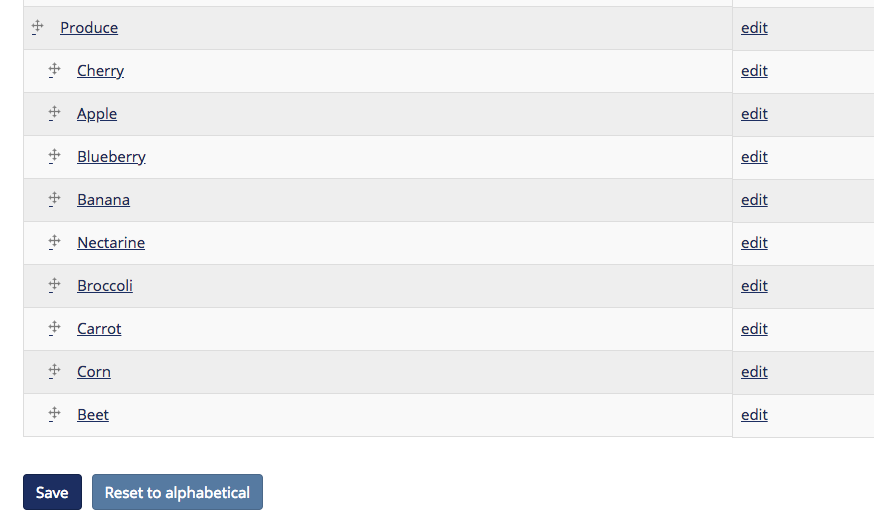 When configuring the Portfolio to get the above display, "Content Page" was selected for "Content Types," the "Topics" option for "Allow Filtering by" was selected, "Topics" was selected under "Pre-filter by," and "Produce" was the Topic selected from the "Only show items tagged with" drop-down. Only one Topic can be selected from this drop-down.