Summary
There are a few widgets that allow you to show a list of filtered content on your site - for example, a list of recently-updated content. This can be a combination of any/all content types available on the Open Berkeley platform.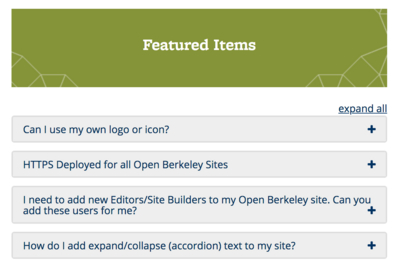 A set of "featured items" on the Open Berkeley homepage, which utilizes the Collapsible Content widget (and a Promo Block)
Best Practices
The Listings widgets (Content List, Collapsible Content List, Content Mini List, Content Grid, etc.) all allow you to feature a list of content in a widget, and there are various options within the widgets to filter the content. The Content List widget has several display options, such as full content and teaser (summary) views. The Collapsible Content widget displays the content in expand/collapse format (see screenshot above for example). The Content Grid widget will show a grid of content (utilizing the Featured Image option), and the Content Mini List has several styles for simple lists of content. These widgets allow you to filter by content type, sitewide Topic, ascending/descending order, post date, updated date, title, and "random."
Another option for a list of filtered content is to utilize the News feature and the News Listings widgets. The News Listings widgets allow you to just show News items in a filtered feed, with several dispaly options, with the option to utilize News categories as well. 
Instructions
When configuring the Listings widgets and News Listings widgets, choose from the various filter options accordingly, and click "Save" when ready. These widgets can be added to any page where the "Customize this page" and "Change Layout" options are available (see Layouts and Widgets). In the following Collapsible Content List widget example, the topic "Featured" is selected, and the number of items to show is set to the number 4. If you wanted to display a list of content that has been recently updated, you would select "Desc" and "Updated Date" in the "Sort order sort by" section.