Summary
The built-in News functionality in Open Berkeley allows you to create a News listing (time-sensitive items displayed in a feed). There are optional News Types available that can be assigned to News Items. You can choose to feature all of your News Items on one page (the News Archive), and/or a customized listing of News Items within individual widgets (the "Recent Stories" widget).
Contributors, Editors, and Site Builders can create News Items and assign them to existing News Types, but only Site Builders can create News Types and utilize the Recent Stories widget.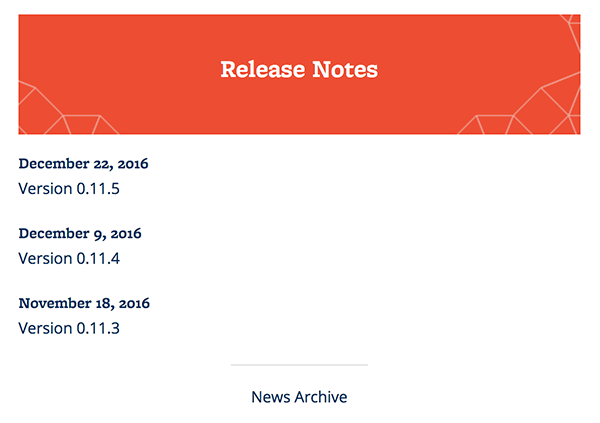 In the above example from our homepage of open.berkeley.edu, News Items are used for our "Release Notes." We've used the Recent Stories widget with no title (so we could use a Promo widget instead), showing a list of the three most recent News Items filtered by a "Release Notes" News Type.
Best Practices
For the "News Archive" page (where all of your News Items will populate by default; the path is /news-archive), the summary of each news item will be created/trimmed automatically on longer news items. We recommend using the "Edit Summary" option on News Items to add your own summary, to help keep the summaries on your News Archive clean and uniform. See our own News Archive page for an example of how this looks.
Instructions