Summary
Do you need to add a new Site Builder, Editor, or Contributor to your site? Anyone with the "Site Builder" role can assign roles after new users log in to their sites. Site Builders can also "upgrade" roles if necessary (e.g., upgrade an "Editor" to a "Site Builder"). More information below about the roles available in Open Berkeley, as well as how to add a new user to your site.
Roles
Open Berkeley comes with three roles. In order of roles with greatest to least number of permissions:
Administrator: This is the "super user." On all Open Berkeley sites, managed by Web Platform Services, this role is reserved for the Web Platform Services administrators.
Site Builder: This role includes all the privileges of the Editor role and additionally all of the functions described in this Site Builders guide. Privileges include, but are not limited to:

Editor: This role can edit any pages on the site, and can create some new pages, but cannot edit any widgets or other privileges of the Site Builder role (including adding pages to menus). Editor privileges are described in the Editors Guide, which include:

Creating and editing Content pages, FAQs, and News Items

Contributor: This role can create new content. A user who is a contributor can edit content that he/she has created in the past. A Contributor cannot edit content created by others.
Add new users and assign roles
As a Site Builder, you can add new users to your Open Berkeley site, and add and change user roles as necessary. You can also remove a user's role entirely if this person has left your team and/or the campus. (In this case, the person will no longer be able to make edits to your site after you remove their role.)
When you add a new user to your site, start with the "Contributor" or "Editor" role. Please do not give users the "Site Builder" role until they have attended a Site Builder training. Once new users have attended a training, you can "promote" them to the Site Builder role.
Users must have a CalNet ID in order to be added to your Open Berkeley site. If you need to grant access to people who are otherwise affiliated with the campus (contractors, consultants, collaboration guests, etc.), please see CalNet Guest and Affiliate Accounts.
Authenticated users don't have any more permissions than anonymous users, so there shouldn't be a reason to block or delete accounts.
How to add new users
Ask the new user whom you want to add to visit http://[yoursite].berkeley.edu/cas and log in with their CalNet ID and passphrase.
The user will show up in the User Accounts list.
Check the username with your approved user list.
If the user is a valid editor (or site builder), add a role via the "Modify user roles" option. Be extremely careful on the role you assign!

Users need to be granted the Contributor or Editor role before they can create/edit content. (See the Roles section above.)
Assign Editor Role (or update to a different role; see "Roles" for descriptions) by clicking the checkbox next to the name and selecting "Modify user roles", then clicking "Execute".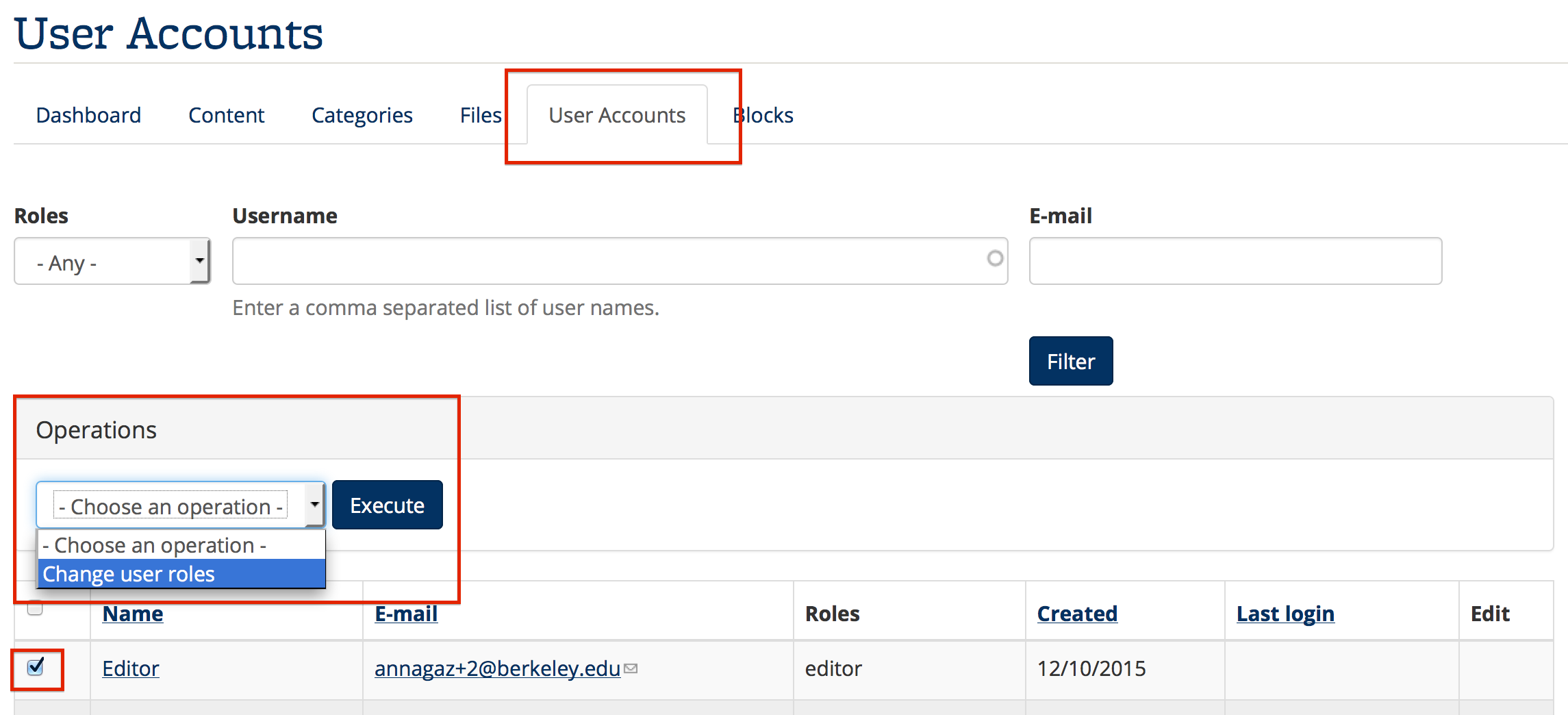 You will be asked to choose a role to add to the user, and to remove a role (if necessary). Make your selection, then click "Next".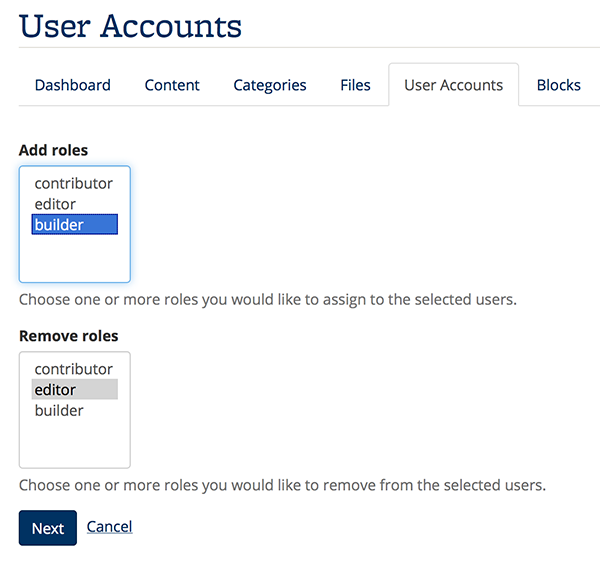 You will be prompted to confirm the update. Click "Confirm" to finish (or "Cancel" to cancel).

Update user display names
If users would like to update their "display" name on an Open Berkeley site, they may do so by clicking their name in the upper-right corner of the admin menu when logged in. From there, click the "Edit" tab, and navigate to "Display name," then click "Save."