Overview of Revisions
On Open Berkeley sites, revisions are enabled by default on live sites, which means that each site keeps track of each change that is made by each user. This means that you will have a record of the previous content in addition to your edits. Each update to a page is tracked as a separate revision.
Revisions allow all Editors and Site Builders to keep track of the changes made to their Open Berkeley site, and can be especially helpful if multiple people are making changes to the same site.
Important Notes
Revisions are available via the "Revisions" tab on all content items (Content pages, Landing pages, News items, FAQs). 
Revisions can also be created when using the "Customize this page" and "Change layout" buttons. However, revisions to widgets marked as "reusable" won't be tracked. For more information, see Configure Widgets and Reusable Content.
Revisions are not available on special pages such as the News Archive page or other built-in pages.
Revisions are not turned on until your Open Berkeley site is launched (live). Before launch, while building your content on your "test" site, revisions are turned off.
Revisions to pages that have been customized (widgets and layouts)
Site Builders have the ability to change the layout of and add widgets to pages. Whenever any change is made to the layout or widgets, a new revision may be created. See Configure Widgets for more information.
Revision log messages
When making an edit to an existing page, you may want to add a "Revision log message" about the revision you just made (this may be helpful if you want to view or revert a revision in the future). If you log a message, it will show up in the Revisions list.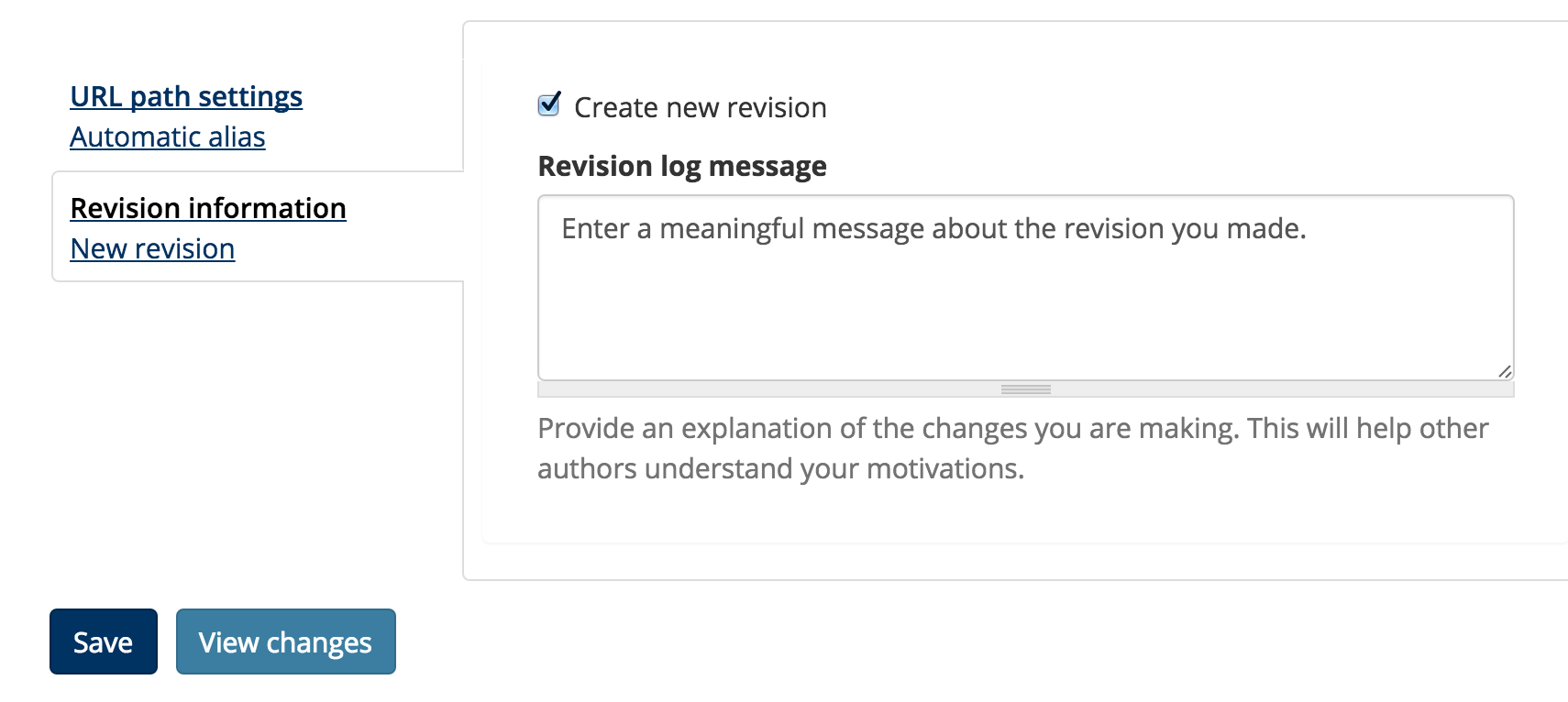 Viewing, comparing, and reverting
You can view all revisions for a page by clicking on the Revisions tab of a page. You can also view differences between two revisions, and revert to a previous revision if necessary.
When you compare two revisions, you will be able to see differences in body content, widgets, and layout. To see what the whole page looked like at any given revision, you can click on the linked revision date.
If you need to revert to a previous revision, your current revision will still be saved, so no changes will be lost in the process.
Any time you revert to a previous revision, you will be reverting the whole page to its state at the time of that revision, including body and other field content, widgets, and layout. Reusable widgets are the only exception - they will always display their latest version even if you revert a page to a revision that included an earlier version of the reusable widget.