The campus A to Z Web Registry serves as a central repository for all official UC Berkeley websites. Adding your website to the registry will make it easier for others to find your website via a simple A-Z index, and will also help others find your website when using the search on the Berkeley.edu gateway website. See Figure 1, below, for a screenshot of the "A" section of the campus A-Z web registry.
Figure 1: Screenshot of campus A-Z web registry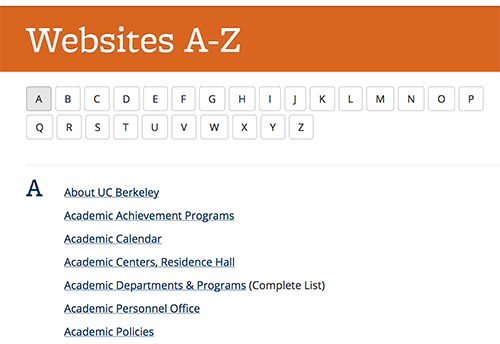 How to Add your Website to the A-Z Web Registry
If your website is not already in the campus web registry, follow the steps at A to Z Web Registry in order to add it. You will need to accept the terms and conditions, log in with your CalNet ID and passphrase, and fill out the form questions. Your site must be live (see Site Launch) in order to be added to the registry.